Worship & Prayer
Services
Christ Church
Sundays:-
8am : said Holy Communion with short sermon
11 am : Parish Communion (with Junior Church and crèche facilities), lasting about 1 hour 15 mins. There is also the opportunity for private prayer after this service. Anointing with oil is offered during this service on the third Sunday of the month.
On the first Sunday of each month, the 11 a.m. service is more informal and family orientated and lasts about 50 minutes (no communion). The music for this service is provided by our band. All are welcome for coffee/squash and a chat.
Thursdays:-
At 9.30am there is a short communion service, again followed by coffee and a chat. We use Common Worship, except the 3rd Thursday of each month where we use the Book of Common Prayer.
Church of the Good Shepherd
Sundays:-
9.30am : Family Communion, lasting about 1 hour 15 mins.
On the second Sunday of each month, our 9.30am service is Cafe-style worship including communion. This is a more informal service where we worship around tables. Breakfast is served from 9am.
Special Services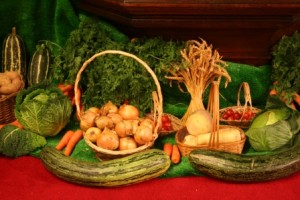 During the year we hold several extra services, some of which are joint services with both churches attending, and some with our neighbours at the United Reformed Church on Mount Road.
The local schools also hold end-of term and special services at various times of the year at Christ Church.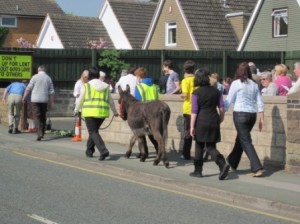 Palm Sunday 2011
House and Prayer Groups
Many of our congregation participate in one of the many House Groups on offer. This is an excellent way to get to know other members of the church, and new members are always very welcome.
To see a list of House Groups on offer across the parish, click here. (PDF, 13kb)
There is also a weekly Prayer Lunch (bring your own lunch!) held in the Jubilee Rooms at Christ Church. For details of planned Prayer Lunches during February, March and April, please click here.
For further information please contact Joy Dipple on 750680.